Growing up in Jordan, I did not have access to many American snacks. The first time I tried Pop Tarts was during one of our annual summer trips to California. I was at my cousin's house for one of our epic sleepovers and she offered me a strawberry pop tart.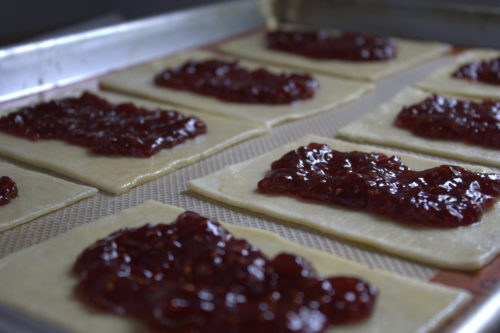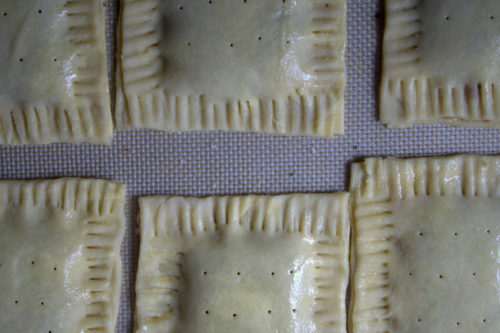 I took a good look at it and thought it looked so pretty dressed in white icing and sprinkles…so how could I say no?? Plus my mom would seldom buy us junk food, so I seized a rare opportunity and said HELL YES! And at that age the 20 ingredient list did not concern me, I gobbled that thing up like it was my last meal.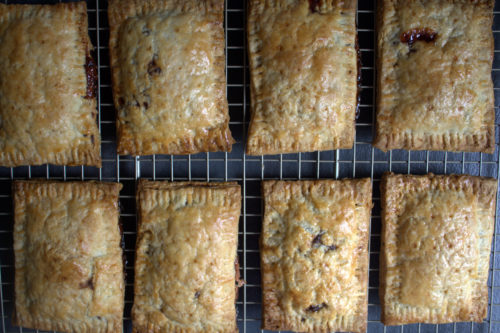 Now that I'm more aware of what I put in my body,  I realized I can make my own pop tarts without all the added preservatives and chemicals that come in the store bought version. The dough in this recipe requires only five ingredients and you can use any filling you like. Since it's such a simple recipe I like to use good quality Irish butter for the dough, because I really want the butter flavor to come through. It also makes the dough incredibly flaky and tender.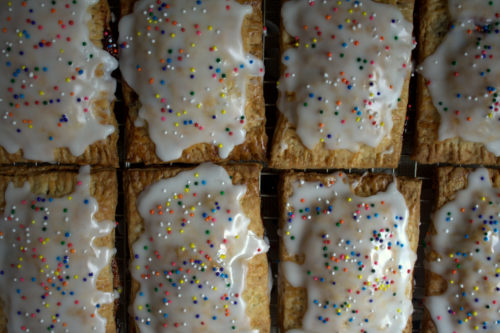 I chose raspberry jam because it's my favorite! It's tart and sweet and pairs so well with the rich buttery crust. A great thing about these homemade raspberry pop tarts is, you can make them a day before, place them in the fridge and bake them in the morning!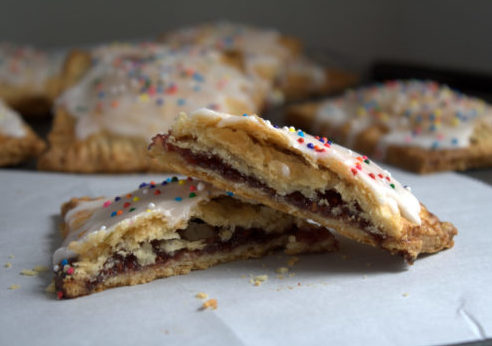 Things You Should Know-Homemade Raspberry Pop Tarts
Use high quality irish butter and keep VERY cold. Best if you cut them into cubes first and place in the freezer for 5 minutes.

The water should also be VERY cold. I add ice cubes.

When cutting the butter into the flour, stop when butter is the size of small peas. A couple of large pieces here and there is ok.

Allow the dough to rest in the fridge for 30 minutes before rolling.

Once the pop tarts are assembled and filled place back in the fridge for 10-15 minutes before baking.
Dough recipe adapted from Baking, by James Peterson.

Place dry ingredients in a food processor and pulse 2-3 times to incorporate. Add the cold butter and pulse again 6-7 times until the butter is the size of peas-it's OK if there are a couple of larger pieces. Add the water all at once and pulse again until the dough looks like gravel. Stop and pinch the dough with your fingers and if it comes together it's done but if it's too powdery add more water and pulse 1-2 more times. Once the dough comes together in your hands, it's done. Turn the dough out on a clean work surface and bring it together. Flatten the dough (as best you can,doesn't have to be perfect) into a rectangle shape, wrap in plastic and place in the fridge for 30 minutes to rest. *** Can also be made by hand using pastry cutter or stand mixer, using paddle a attachment.

When dough is ready to be used, begin preheating your oven to 375 degrees F. Cut the dough in half. Take out your ruler! and on a lightly floured surface, roll out each half into a 14-by 11-inch rectangle. Using a pairing knife or pizza cutter, cut the dough into eight 3.5 by 5.5 inch rectangles. Place the bottom 8 squares on baking pan. **

Spoon 2 tablespoons of jam in the center of each square-don't spread too much, try to keep it in the center. Brush the edges of the dough with the egg (helps the top square adhere) and save the rest for later. Lay the top squares on top of each bottom square and with a fork press the edges together to seal. Place the sheet tray with pop tarts in the fridge for 10 minutes or in the freezer for 5 minutes.

When pop tarts are ready, take out from the fridge and brush the tops with the remaining egg wash. Using a toothpick, poke holes to help release the steam when pop tart is baking. Bake for 30-40 minutes, until tops of pop tarts are golden brown. Let cool on baking sheet for 15 minutes and then transfer to wire rack to finish cooling.

While pop tarts are cooling, start on your glaze. In a small bowl whisk together sugar, vanilla and water until smooth. When pop tarts have cooled for 30 minutes, spoon the glaze on each pastry , then sprinkle with rainbow sprinkles. Allow the glaze to set before serving.