I am so excited to share the recipe for my Orange & Cranberry Polenta cake. It has a wonderful crunchy sugar almond topping and soaked in an orange simple syrup. This cake to me screams the holidays.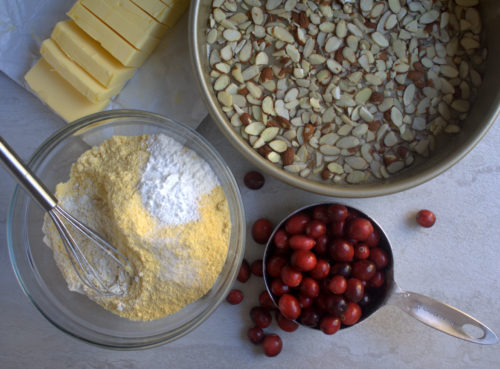 I have a confession to make, I have never used fresh cranberries in any of my desserts. I've used dried cranberries a ton but for some unexplained reason, I overlooked fresh cranberries.
I think I associate cranberries with Thanksgiving; in my head turkey and cranberries are in a monogamous relationship . But guess what? turkey and cranberries have decided to see other people.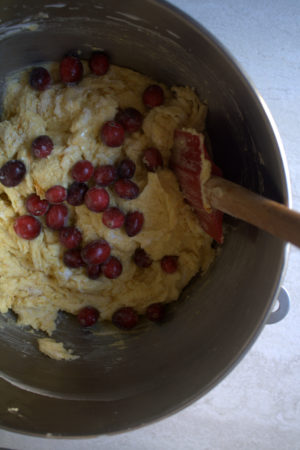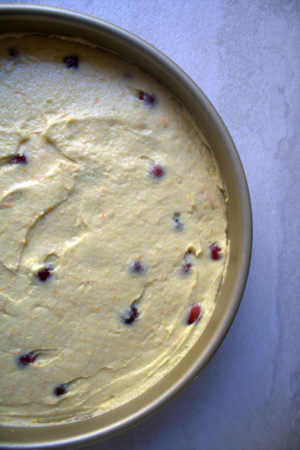 This Orange Cranberry Polenta cake is inspired by a teacake I had at Tartine Manufactory in San Francisco. Tartine is one of my all time favorite bakeries and on a recent trip to the city with my husband, we just had to make a stop there. We asked our waitress to surprise us with a dessert and she brought out a lemon cranberry teacake, soaked in an almond simple syrup.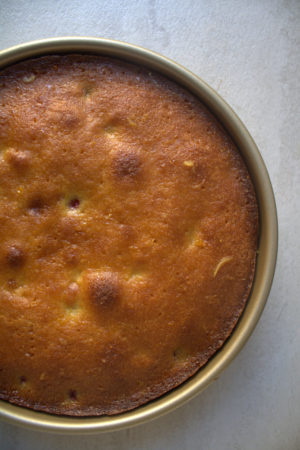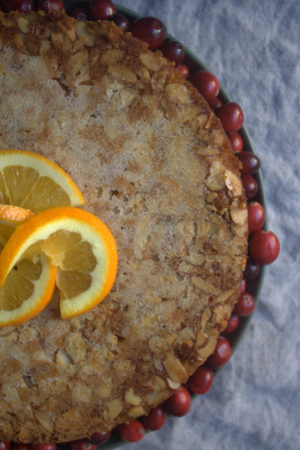 We each take one bite and immediately gave each other a look like 'damnnn' this is good! It was so simple but more amazing with each bite. I have a strong aversion to almond extract because it's such an overpowering flavor. Yet somehow they were able to balance the flavors so well that I didn't even notice the almond extract.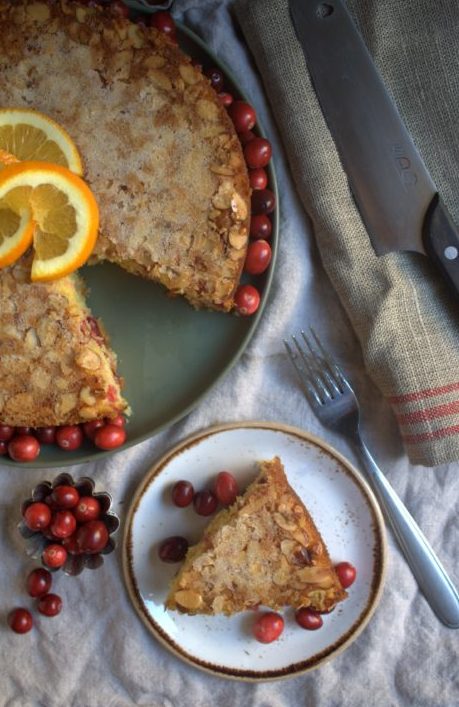 So thanks to the baker who created this teacake, I was able to come up with my own version. Which to be honest, I liked just a tad more because my cake wasn't as sweet… or maybe it's because I made it. Shhh…don't tell anyone 😉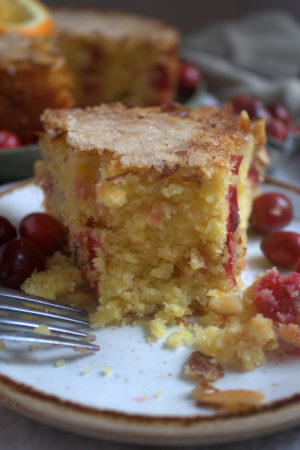 Preheat oven to 350 degrees F. Use the 2 Tbs of melted butter to grease a 9 inch round cake pan. It will look like a lot but trust me it's needed. Make sure the edges of the pan are also coated with butter. Sprinkle the 2 Tbs of sugar all over the pan in one even thin layer. Now sprinkle the 1/3 cup of almonds all over the pan until it's completely coated and set aside.

Whisk the flour, polenta, baking powder, and salt in a medium bowl. Cream together the sugar and butter until fluffy, in a stand mixer or handheld mixer. Add the vanilla and zest and beat to combine. Add the eggs one at a time, beating well after each addition. Scrape the bottom of the bowl a couple of times to make sure everything is incorporated. Add the flour mixture alternately with the yogurt, beating on low speed after each addition just until incorporated. Begin with flour mixture and end with flour mixture. Fold the fresh cranberries with a spatula, do not over mix. Spread the thick batter evenly in the prepared pan. Bake for 40-45 minutes, until toothpick inserted into middle comes out clean.
In a small sauce pan heat the sugar and orange juice until sugar has dissolved. Allow to simmer for about 2-3 minutes om low heat, remove and set aside. Once the cake is done let it cool for about ten minutes. Take the orange simple syrup and drizzle it all over. It make take a few seconds for the syrup to soak in..wait a little and pour some more until it's done. Leave the cake to cool completely before taking out of the pan. Before releasing the cake, run a knife around the edges of the pan for easy release.