I haven't posted a recipe in a while because the kitchen has been a little rough on me lately. I wasn't feel very inspired which led me to make many unsuccessful desserts. Slowly, I've been getting out of this rut and I'm seeing the light at the end of the tunnel.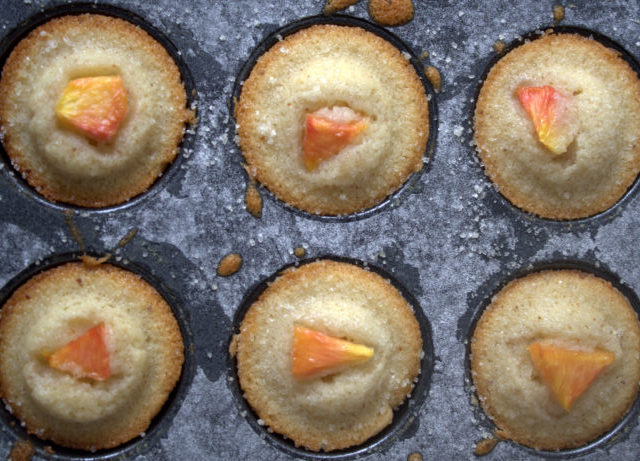 I've been watching the French open every single day now and the scenery of Paris inspired me to make a French pastry. Financiers is what immediately popped in my head. I remember making Financiers back in my pastry school days but never again since that time.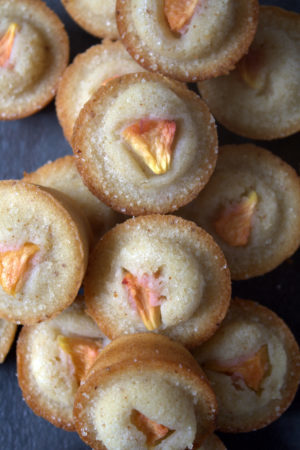 They sound fancy and complicated to make but really it's a very simple recipe. These tiny almond cakes are so damn delicious! I quickly regretted why it took me so long to make these babies again. It only requires five ingredients! And you can use any type of fruit you like. The flavor of the dough is so versatile and rich, it pairs well with anything!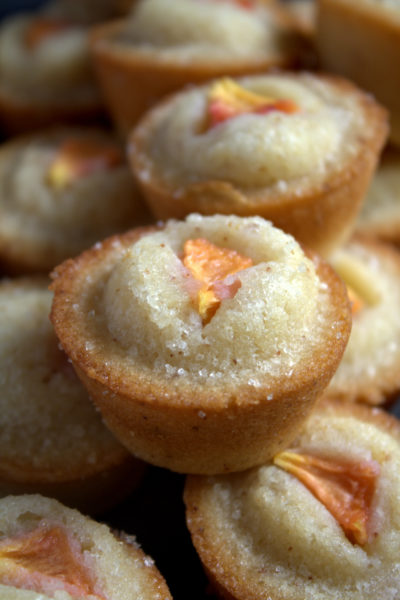 Traditionally, Financiers are made in mini rectangular mold to resemble a bar of gold. But as you can use whatever mold you have at home. This recipe makes about 34 mini financiers but if you don't want to make them all at once, the batter will keep in the refrigerator for up to two weeks! Just bring it back to room temperature before baking. Another option, you can bake this in a 10-inch round cake pan if you prefer. 
Warning: they are super addictive!! Consume with caution.
Things You Should Know-Brown Butter Peach Financiers
Watch the butter carefully while it's browning in the pan. It can quickly burn, yielding a very bitter taste. Don't use if it burns. You are looking for a dark amber color.
Bake financiers for 5 minutes, remove from oven then add the fruit. The batter is pretty thin/runny and this will prevent the fruit from sinking to the bottom.
The batter can be stored in the fridge for up to two weeks. Bring to room temp before baking.
Recipe taken from (with a few of additions of my own) The Secrets of Baking: Simple Techniques for Sophisticated desserts, by Sherry Yard.

Preheat oven to 350 degrees F. Grease muffin tin or cake pan with butter and dust with four. Tap out any excess flour.

Melt butter in a medium saucepan over medium heat. Cook until solids separate and begin to brown to a dark golden color, 7-10 minutes. Don't walk away from pan for too long, once it browns it will quickly burn if left for too long. Remove from heat and allow to cool to room temp. Peel and chop the peach into small triangles.

Toast 1/2 a cup plus 2 Tbsp of the almond flour in the oven for 6 to 8 minutes, until golden brown. Watch carefully. In a mixing bowl sift together, the toasted and untoasted almond flour, cake flour, powdered sugar and a pinch of salt. Whisk together to incorporate ingredients. Add the egg whites and vanilla all at once and with the paddle attachment mix on medium speed for 3 minutes. Stop mixer and scrape sides of bowl to make sure everything is incorporated.

Add the browned butter all at once and mix for another 3 minutes on medium speed, again scraping sides of bowl until everything is incorporated because the butter tends to sink to the bottom. The batter will be thin.

Pour the batter in greased and floured muffin tin filling it 2/3 of the way. First bake the financiers for five minutes then REMOVE from oven and place the peaches on top. This will prevent the peach from sinking to the bottom. Return to oven and bake for another 6-7 minutes until the edges are a nice golden brown color. Total time about 13-15 minutes. Allow to cool in the pan for about 10 minutes before removing.

Note: if you opt for 10-inch round cake pan, it will require more time to baked. About 25-30 minutes.