The month of June has been a roller coaster of emotions, in a good way. My sisters and I decided to organize a family reunion in San Diego. The fact we were able to come through with our plan was a miracle in of itself. I mean getting everyone together for a simple lunch was a struggle so I'm not sure how we were able to pull this reunion off.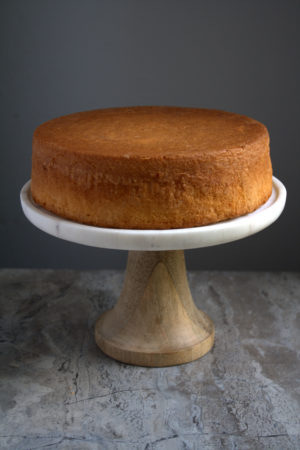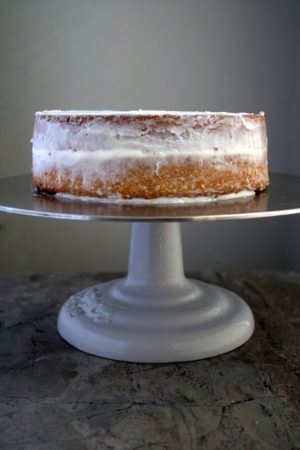 My sisters and I haven't been all together in the same place for FIVE years! So this reunion was huge. I got to meet my almost 2 year old nephew who lives overseas for the first time. My 14 month old nephew started walking for the first time here in my home! There was never a quiet moment in the house…unless the babies were napping. And my sisters' rule during those hours was, "you wake it, you take it".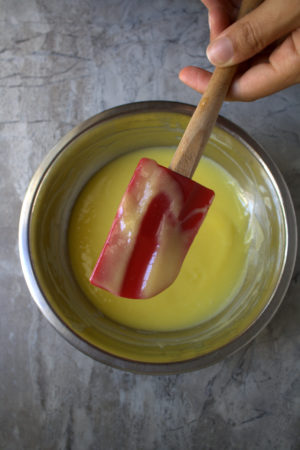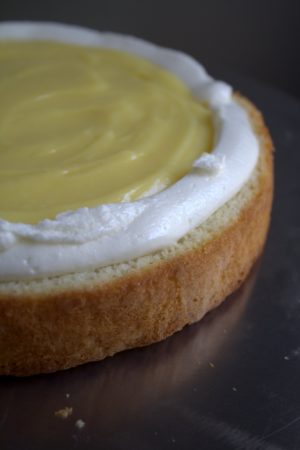 This was an epic reunion and hopefully there will be more to come. Hosting my big family took the majority of my time. So baking and blogging took a backseat. Once they all flew back home 🙁 I was trying to come up with a dessert inspired by my family and our time together. First word came to mind was, nuts but fun…then I thought COCONUTS! It was definitely nuts at times but still sweet! My family is definitely nuts -not gonna lie- but we're so sweet that you can't resist us. That was cheesy. I'll stop.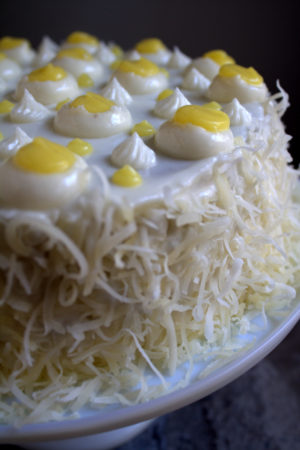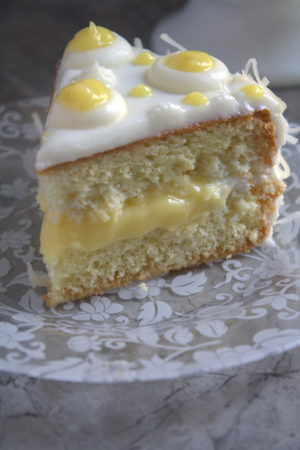 I decided to use an Italian sponge cake because it's light and perfect for a summer dessert. The tartness of the lime curd pairs very well with the sweet classic buttercream. I soaked the sponge cake with a lightly sweetened coconut milk to intensify the coconut flavor and keep the cake super moist.  
**Please read "Things you should know section" before making the cake. Although it only requires about 5 ingredients, the technique must be followed carefully to ensure you achieve a nice tall cake.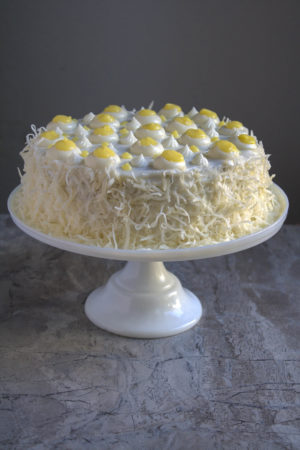 Things You Should Know – Coconut Lime Cake
It's very important to use room temperature eggs. Take them out ahead of time or place eggs in a bowl with very hot tap water.
whisk the eggs until very pale in color and fluffy. Since this cake contains no baking powder or baking soda the air is what will give the cake its height.
Sift the flour on top of the fluffy egg mixture a LITTLE at a time. Otherwise, the flour will sink to the bottom.
If you can, make lemon curd a day ahead so that it is completely chilled. Or you can make it the day of but give it at least 4 hours to chill in the fridge.
Sponge cake recipe taken from, As Easy as Apple Pie.

To make cake preheat oven 340 degrees F. Grease an 8 inch round pan with butter. Cut a 4 inch piece of parchment paper and place along the edges of the cake pan. This will prevent the cake from over flowing. Grease the parchment paper as well.

Place the room temperature eggs, sugar, vanilla and salt in a mixing bowl. Beat on medium high speed with whisk attachment until VERY light in color (pale yellow) and fluffy, about 10-15 minutes. Stop the mixer and let a dollop of batter fall into bowl, if it keeps its shape and doesn't sink in then it's done. However, if it quickly sinks back into the batter continue to mix and test again. **This step is what gives this cake its height. So be patient.

Sift the flour over top the batter a little at a time and gently fold with a spatula, until flour disappears. Make sure there aren't any pockets of flour leftover. Check the bottom of bowl because it tends to sink. Pour batter into prepared pan. DO NOT smooth batter or bang on the counter. We don't want to deflate all the air we whipped into the cake.

Bake for 30 minutes or until toothpick inserted comes out clean. The original recipe asks , when cake is done turn off oven but to keep the cake in there with door slightly open so the cake cools down slowly and doesn't deflate. However, I felt this step dried out my cake. I'd say maybe do this step for 10 minutes not 30. Remove from oven and allow to completely cool.
In a medium bowl whisk egg yolks and eggs until combined. Place strainer on top of another medium heat proof bowl and set aside (keep close to you, as you will need it to pour the hot lime curd in there immediately).

Place sugar, lime juice, lime zest and butter in a small sauce pan and bring to a simmer on medium heat. Slowly pour a little bit of the hot liquid to the eggs while whisking continuously. Add a little more liquid while whisking and complete with the rest. Pour the mixture back into sauce pan and whisk continuously on medium heat. Until thickened , DO NOT BOIL. To test if it's done, use a spatula to mix curd then if you run your finger down the back of the spatula, the line should stay and not run together. **SEE PHOTO quickly remove from heat and pour into strainer. Place plastic wrap directly on top of the lime curd and place in fridge to cool completely.

To make the sweet coconut lime milk, mix sugar and coconut milk until sugar has completely dissolved. Set aside.
In a mixing bowl, beat butter and sugar and until smooth, creamy and slightly fluffy. Add coconut milk and beat again until smooth.

With a serrated knife slice the cake in half. Use the sweet coconut milk to soak the cake layers. Once the liquid has been absorbed pipe a border around the edges of the cake and fill the middle with lime curd. Place second cake layer over top and decorate with remaining icing and lime curd. Coat the edges with shredded coconut.