There are moments in life when I get so excited about something I struggle with conveying my message in words. Ladies and gentlemen this is one of those moments. Because this Olive Oil Cake with Blackberries and Mascarpone Cream is EVERYTHING.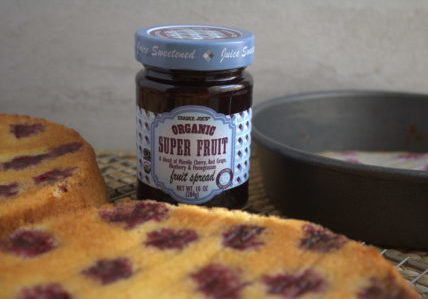 Olive oil in a cake may seem strange to some people and it's totally understandable. But the texture the olive oil gives this cake is unlike any other. The texture is incredibly light and fluffy, and while the olive oil flavor is evident it's not overpowering. And the light mascarpone cream compliments the cake's delicate texture perfectly.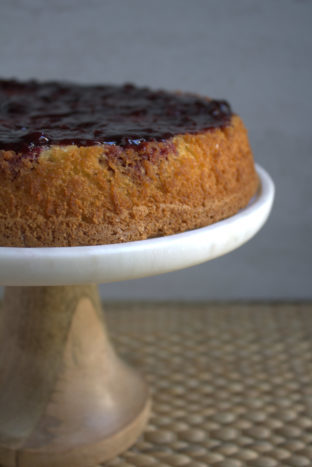 Initially, I wanted to use blackberry jam in between the cake layers and cream but it was not available at the store. However, I took a chance and went for an organic super fruit spread/jam I found at Trader Joe's. It's a blend of morello cherry, red grape, blueberry and pomegranate and man is it delicious!! Sweet and slightly tart, the addition of this jam tied the whole cake together.
I love this cake because it doesn't have to look perfect, hence "rustic" in the title but the flavors are perfect in every way. This Olive Oil cake with Blackberries and Mascarpone Cream is the ultimate spring dessert and I urge you to give it a try!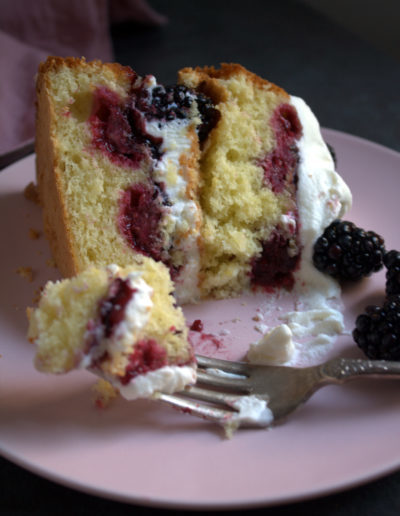 Things You Should Know-Rustic Olive Oil Cake with Blackberries & Mascarpone Cream
Beat eggs and sugar on medium-high speed for about 5 minutes, until the mixture has

doubled

in volume and is a

very pale yellow

color…almost white. You must achieve this step or else the cake won't be light and fluffy.

While mixer is on medium speed, pour the olive oil in a

slow steady stream

. If you dump all at once, it will deflate all the air you incorporated in the first step.

When you add the fresh blackberries to the cake batter, they will most likely sink to the bottom…don't fret the cake will still taste amazing.

If you can't find the fruit spread from Trader Joe's you can substitute with any jam you like.
Cake recipe inspired by Shebakeshere.com

Preheat oven to 350 degrees F. Grease 2 round 8-inch pans (or 1-9 inch round pan) with oil and line bottom with parchment paper. Place flour, baking powder and salt in a small bowl and whisk very well until fully incorporated. Set aside.

Using a mixer with whisk attachment, beat the eggs on medium speed then add sugar. Turn speed to medium-high and whisk for about 5-7 minutes until the mixture has doubled in volume and becomes a very pale yellow, almost white in color. Add the lemon zest and lemon juice and beat to combine. Turn the mixer to medium speed and pour the olive oil in a slow and steady stream. *DO NOT dump the oil all at once, it will deflate all the air we incorporated in the sugar and eggs. Stop the mixer and with a spatula scrape the bottom of the bowl to make sure everything is incorporated.

Using that same spatula, gently fold the dry ingredients with the wet until there are no more streaks or pockets of flour but don't OVER MIX. Pour batter in pans, try to make them as even as possible, gently tap the pans on the counter to release any air bubbles. Drop about 18 blackberries in each pan (yes I counted!). Bake for about 25-30 minutes or until toothpick inserted in the center comes out clean. Remove the cakes from the oven and let them cool for 10 minutes in the pan then release from pans and allow to cool completely.

To make the cream, beat the mascarpone cream, sugar, and vanilla until smooth. Add the heavy cream and beat until you get soft peaks. To assemble the cake, place one cake layer on cake stand, spoon half cup of jam on olive oil cake and spread. Then spread or pipe half the mascarpone cream on top, add fresh blackberries (save some for decorating) Place second cake layer on top and repeat with the same steps as above. Cake can be stored in fridge covered for up to three days.