A fruit galette is hands down one of my favorite desserts to make and eat.  The simplicity of this dessert is what I love about it the most. The dough is only five ingredients and you can use whatever fruit you have on hand. The simple ingredients in a galette create unbelievable flavors and textures in one dessert.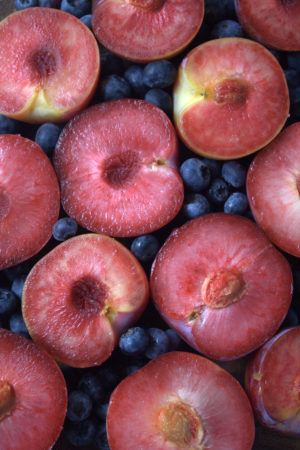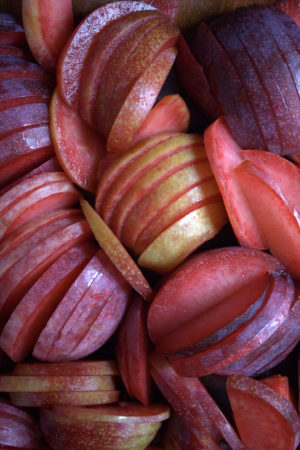 Occasionally when I want to indulge, you can add a level of decadence with a layer of almond cream; not necessary but recommended! The almond cream recipe makes enough for two or more galettes. I place the rest in a plastic bag and in the freezer it goes. This almond cream is so versatile, you can use it as a filling for many desserts. Like, tarts, croissants, and I can imagine it would be very yummy as a filling for a coffee cake. But it must be baked, because it contains raw eggs. Obviously.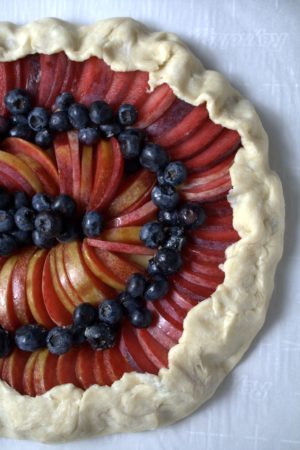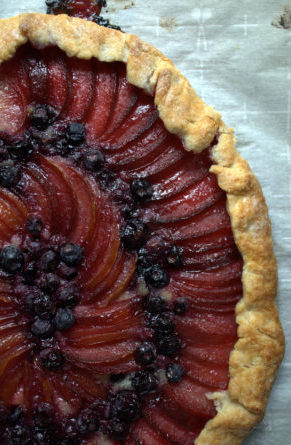 A galette is perfect for those days you want something sweet without exerting too much effort. It doesn't have to look perfect, in fact the imperfections give it that rustic look- which I prefer.
The key to a delicious galette is the dough. The crust must be flaky, tender and sturdy enough to hold the almond cream and fruit. In the "Things You Should know" section below you will find some tips on how to make a perfect galette dough.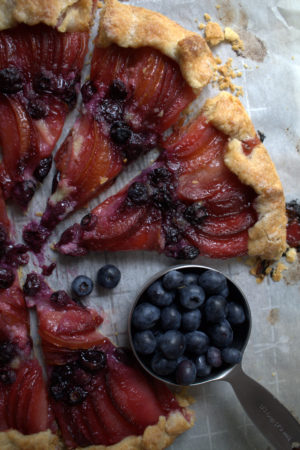 Things You Should Know- Plum & Blueberry Almond Cream Galette
Butter must be cold before using. Cut up butter into 1 inch cubes and place in the freezer.

Water must also be very cold. Place water in the freezer as well.

Once the dough comes together, stop the mixer. Do not over mix the dough.

It's OK if you see bigger pieces of butter in the dough. This will actually make the crust very flaky.

Allow the dough to rest in the fridge for up to an hour.

Enjoy galette at room temperature, with ice cream or whipped cream if desired.
Galette dough recipe taken from Ready for Dessert, by David Lebovitz.
Almond Cream recipe taken from, Patisserie Philippe San Francisco.

Servings:
12-inch galette
To make the dough: In a stand mixer with paddle attachment/or in a food processor, mix together flour, sugar and salt. Add the chilled butter and mix until the butter is broken into the size of large corn kernels. Its O.K is there are a few pieces that are larger, they will make the dough nice and flaky. Add the ice water all at once and mix until the dough JUST begins to hold together. Turn the dough out on a clean work surface and shape the dough into a 5-inch disk and cover with plastic wrap. Refrigerate for at least 30 minutes until nice and firm.

While dough is resting in fridge, start working on the almond cream. Place butter and dry ingredients in stand mixer fitted with paddle attachment, and mix until incorporated. Add the whisked eggs and vanilla and mix until fully incorporated. Place the cream in fridge until ready to use.

Preheat oven to 375 degrees F. Line baking sheet with parchment paper or silicone mat. Cut and slice the plums and set aside. Lightly, flour your work surface and roll out the galette dough into a 14-inch circle. Transfer it onto prepared baking sheet.

Smear about 3/4 of cup of the almond cream over the dough, leaving about a 2-inch border. Arrange the plums in any way you desire as well as the blueberries. Fold the border of the dough over the plums and brush the dough with melted butter and sprinkle 3 Tbs of sugar over dough and the fruit. If you have melted butter left over, simply drizzle it over the fruit. Bake the galette for about 55-60 minutes until the crust has browned. Allow the galette to cool down a bit before transferring it onto a wire rack. Enjoy at room temperature.