While everyone is getting ready for fall, I'm over here stuck in summer mode baking in denial. I'm not ready to give up my summer berries for apples or pumpkin spice. Plus, the 90 degree weather is not helping either.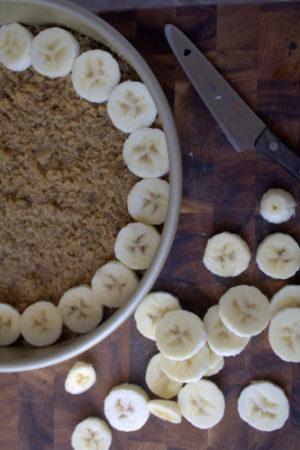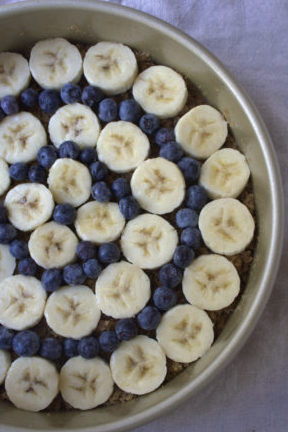 I found some really yummy blueberries at the market and I happened to have a bunch of bananas at home. So with a little denial and a touch of cinnamon, this is how this cake came to be.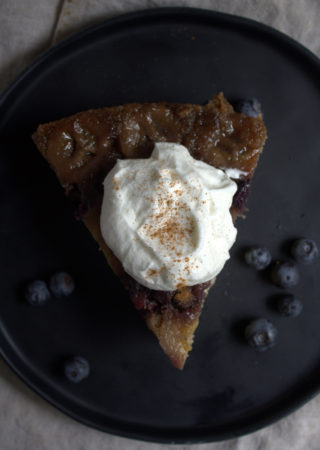 Determined to include the blueberries in a fall dessert, I think I accomplished a happy medium.  I added cinnamon to the caramel topping to incorporate fall spices. The cinnamon added a warmth of flavor (if that's a thing). At the same time, it complimented the blueberries and bananas, which are typically not used in fall desserts.  
This cake is best served warm, the day of with vanilla ice cream or whipped cream…or both! 😉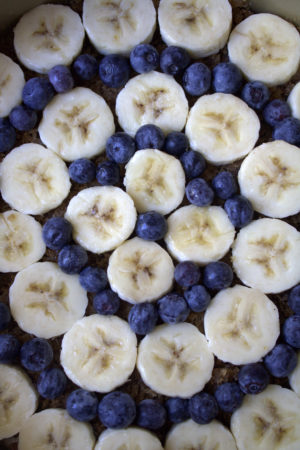 The simplicity of this cake is what I love about it the most. The beautiful design of the blueberry and banana makes it that much more special.
Recipe adapted from Ready For Dessert by David Lebovitz .

Preheat oven to 350 degrees F. To make topping, place 3 tablespoons of butter in a 9-inch round cake pan. Set the pan directly on the stove top over low heat until better has melted. Add the brown sugar and cinnamon and stir until the sugar is completely moistened. Remove from heat and allow to cool briefly. Arrange the blueberries and bananas in any design you like over the brow sugar mixture and set aside.

To make the cake, whisk together the dry ingredients in a small bowl. In a mixer fitted with paddle attachment beat together the softened butter and sugar on medium speed until light and fluffy. Add the vanilla and eggs one at a time, beating until thoroughly incorporated. Scrape the bowl once or twice to make sugar everything is incorporated. Gradually mix half of the dry ingredients on low speed until JUST combined then stir in the milk. Scrape the bowl. Then with a spatula fold in the remaining flour mixture until just combined. Scrape the batter on top of the fruit and smooth into an even layer.

Bake the cake for about 45-50 minutes until toothpick inserted come out clean. Oven temps vary, I suggest checking the cake at 40 minutes to be on the safe side. Let cake cool for 15 minutes. Run a knife around the sides of the cake to help loosen it. Place a serving plate over the cake pan. Wearing oven mitts, hold the plate and pan and turn them over together. Carefully lift off the pan. Serve with whipped cream or ice cream! And more fresh fruit if you like.