Sticky Toffee Date Cake…how can you go wrong with a cake drenched in toffee sauce? For some odd reason this dessert is hard to come by in my area and I can't seem to find it at restaurants or bakeries. I decided to take this matter into my own hands and make my own! While getting random housework done, I normally have the Food Network playing in the background and luckily Barefoot Contessa happened to be on. On the menu for that day was: Baked Fontina, Lemon Chicken Breasts AND Sticky Toffee Date Cake. My girl Ina never lets me down! Right then and there I decided this will be the recipe I'm going to make and I'm so happy I did.
This cake is rich in flavor yet delicate in texture and will leave you wanting more. If for some crazy reason you don't want to use the toffee sauce, the cake alone is still pretty darn good! I made one round 9 inch cake which I kept as is and baked the remaining batter in a muffin pan. As a taste experiment I added chopped walnuts and orange zest to the muffin batter but I wasn't too pleased with the results. The simple ingredients and flavors is what makes this date cake so delicious in my opinion but you live and learn!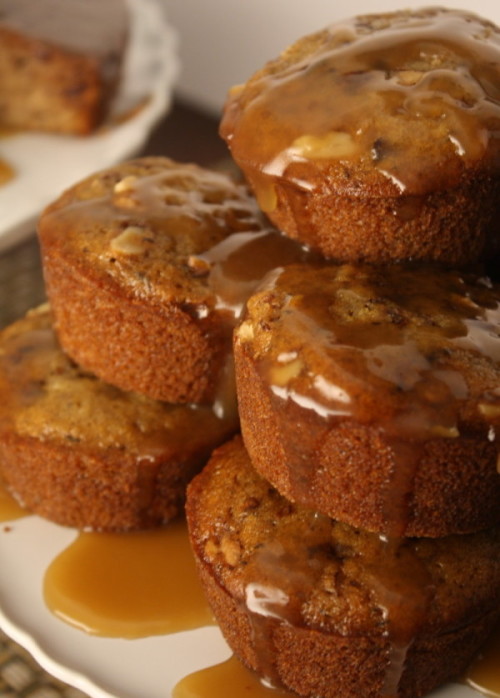 Tip**
Since this is not your typical cake recipe I suggest reading the instructions thoroughly before starting. It requires a little more technical steps and attention to detail but it's well worth it.
INGREDIENTS:
Date Cake
1 lb dates pitted and chopped

2 tsp baking soda

8 oz unsalted butter, at room temperature       

¾ cup granulated sugar

4 eggs at room temperature

1 tsp vanilla

2 ½ cups all purpose flour

1 tsp kosher salt

3 ¼ TB baking powder ( not a typo)
Toffee Sauce
½ lb unsalted butter

1 cup lightly packed brown sugar

½ cup heavy cream

pinch of salt
DIRECTIONS
Preheat oven at 350 degrees F. Makes two 9-inch round cakes or 20 muffins. Butter and flour pans.
Place chopped and pitted dates in medium saucepan with 3 ½ cups of cold water. Bring to a boil, stirring occasionally. Then leave to simmer for about one minute. Remove from heat and add baking soda (this will cause the mixture to bubble up)
Cream butter and sugar in mixer until light and fluffy. Add the eggs one at a time occasionally scraping the bottom and sides of the bowl then add vanilla and mix until completely combined. Next, add flour and salt and mix until just combined. Dough will be thick.
Next, CAREFULLY add the warm date mixture in two batches and scrape sides of bowl ( I made a huge mess) the batter will be very thin. Last step, add the baking powder – it will bubble up once again- briefly mix. Pour the batter in the prepared pans. Cake pans will take about 30-40 minutes and muffin pan 15-20 minutes. Cake should be done when toothpick or knife inserted comes out clean.
While cake is baking, to make the sauce place butter, brown sugar, heavy cream, vanilla and salt in medium saucepan. Bring to boil then reduce heat let simmer for 1-2 minutes until smooth and slightly thickened. Set aside.
Once cakes are done remove from pans while still warm but cool enough for you to handle. With a toothpick poke holes all over the cake, this will help the sauce fully absorb into the cake. Pour the sauce all over  warm cake and let soak for ten minutes.
Serve with whipped cream or just as is!
For original recipe click here.